MITSUI FINE ARTS
SAN RAFAEL, CALIFORNIA
+1 415 336 6651
---
THE TREE HOUSE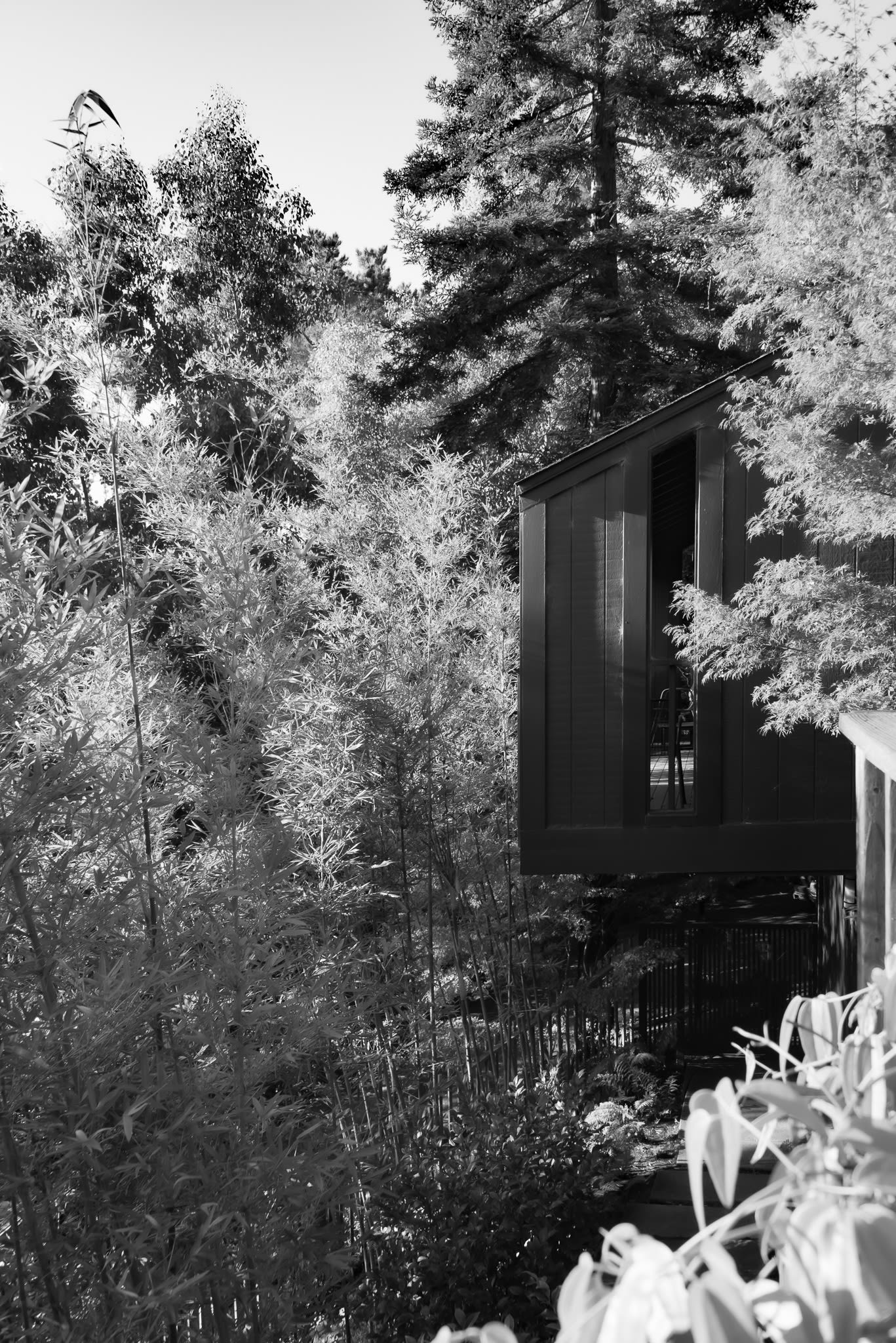 To purchase a piece from Mitsui Fine Arts requires a specific approach, quite literally. The customs that dictate the movements of objects from Mitsui Fine Arts to their new guardians are informed by traditions far older than those that govern the swift and volatile contemporary art market. Mitsui Fine Arts offers an alternative experience, one in which the buyer may enter into Misako's meditative, idiosyncratic world. Misako has invited us into her realm of knowledge by sharing the stories that surround her objects through writing, but one may also pay a visit to Misako's "tree house" if they wish to inquire about her collection. Consider this visit as a moment in the object's history, an experience as tangible and distinct as that which any one piece of art could provide on its own
Tucked away between the rolling hills of San Rafael, Misako lives in a hiding place amongst the trees. It is a tranquil environment where delicate light filters in through morning and evening blankets of fog. Her home sits upon a steep hill, which looks across to a succession of thickly wooded mountains that unfurl along the horizon. You must crane your neck upwards to observe the house, which appears to perch somewhat precariously like a tree house balanced between branches. Here, at the foot of its moss spackled driveway, the unfamiliar approach to Misako's home looms with curiosity.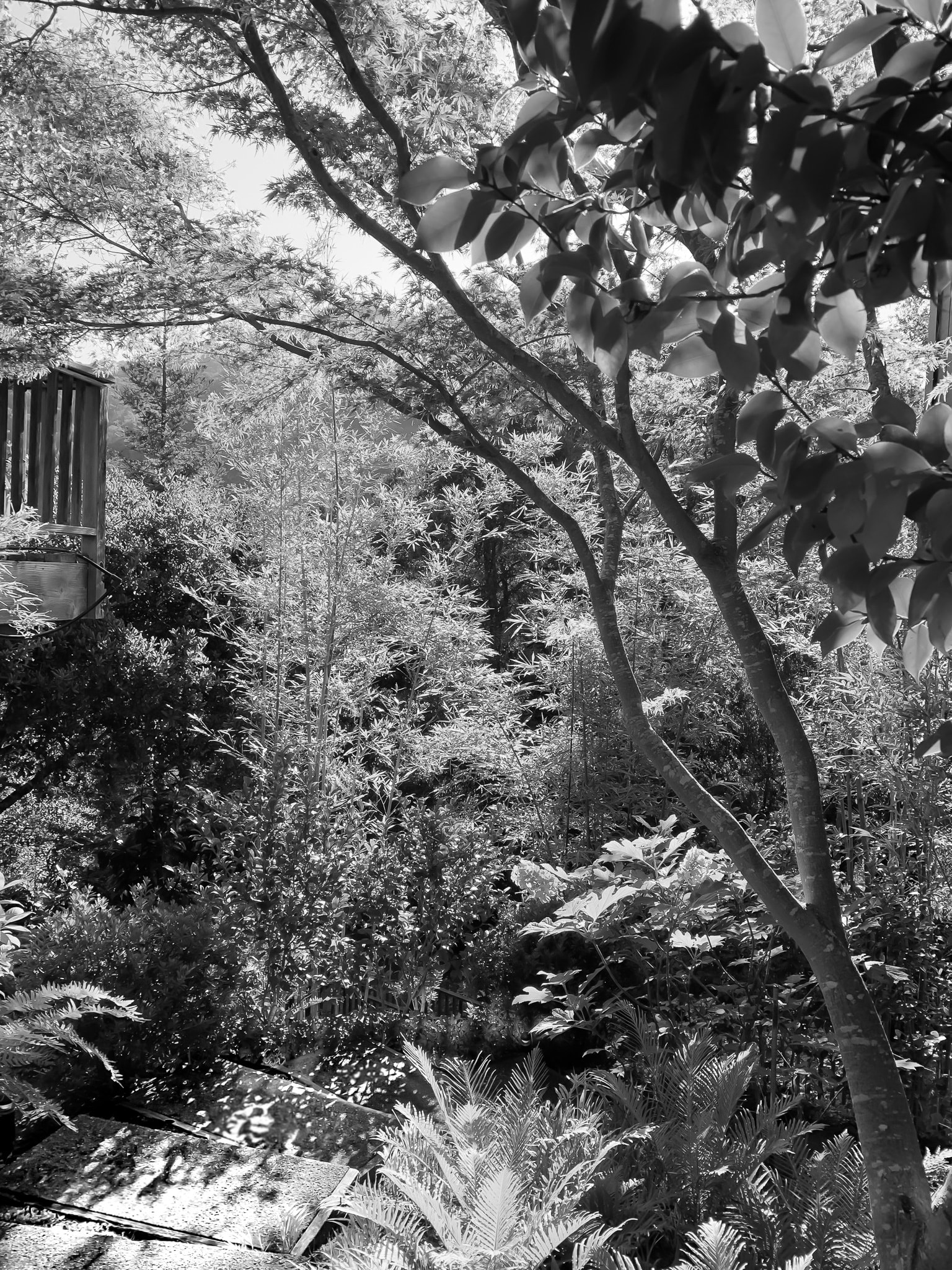 The ideal roji (tea house pathway) has been imagined throughout history as a solitary traverse through a silent mountain path.Similarly, the stone footpath beyond Misako's humble wooden gate forces one's feet to pass over it deliberately. Your body must slow down as it climbs these steps, and the mind's pace mellows with it. Your eyes wander amongst varying patches of green; from low-lying strands of fern and the waxy emerald leaves of camellias to gossamer-like Japanese maples overhead.
Brightening to the smell of crisp air and damp soil, you become alive to the intimate enclosure of this space. By the time you reach the steps and wooden porch to Misako's front door, the outer world will feel pleasantly distant. Your walk through the garden has slowly primed your body to adjust to the heightened sensory awareness of Misako's space.
Her home is sunny and inviting, a mix between old world Japan and Northern Californian simplicity that smells faintly of aged Japanese timber. Inside, you will find her daily preference of objects, scrolls, and perhaps even flowers, which have been chosen in response to the season or the whims of a particular day. You will be encouraged to explore freely, while Misako prepares a warm cup of tea, and so you allow your curious eye to guide you from room to room. Caught by the gesture of paint on a scroll or the elegant patina of a kettle, your immediate interests in a particular object will unfold over slow and deliberate conversation with Misako. Like the considered path through the garden to your house, taking the time to speak with her about these objects only allows you to become more attuned to the nuances in their form and sheds light upon the deep well of history each contains.
Perhaps you will find a piece that rings true with your own sensibilities, or perhaps you may find none. It makes no difference, because Misako's inventory of objects is constantly shifting and growing within the walls of the tree house. What matters is the introduction, through conversation and contemplation, to Misako's world through her home. This begins a dialogue that will only grow between you and Misako, an opportunity for further correspondence.
Whether you meet Misako at her tree house, or simply experience her world online, it all starts with an email. So let's talk. mm@mitsuifinearts.com